Custom made electrical item NOT Returnable or Refundable
This system is custom made to hook up to or draw from a water source, reverse osmosis desalinate and purify, and then de-ionize water sources to feed to the PEM  stack to make on the fly Hydrogen as fuel in sufficient on the fly quantities to power a Genset engine in sufficient volume to have enough gas left for heating and cooking in moderation.  It can be built to power Genset sizes from 7 hp air cooled generator to 350 V-8 GM fuel injected 40 - 45 Kw Genset which will be using multiple alternators.  Automatic Power Transfer Switch or Grid Tie Inverter not included.  Custom made to your application.  The PEM unit is made to be portable you can quick disconnect it and carry it between home and vehicle and use it in both if desired.  We call this our Nordstream / Europe solution to Mr Putin.  The issue is where one will get the water feedstock.  For an additional fee an exhaust condenser can be sold which will direct exhaust into tanked water which will recover the water in the exhaust gases from the Genset.
Does not include the fuelling adaptor or system for an engine - you specify what you have and we will quote to supply one.  Traditionally for an air cooled Genset  it is a mixer for that engine and for four cylinder  and v6 or v8 it is gaseous fuel injected with an ECM.
The sky is falling Putin has cut off the gas.  OK  don't panic - screw Putin and evade inflation too  - make your own gas.  If government officials wanted to they could do the same thing.   Generate hydrogen use some to keep a engine going to keep making hydrogen and store it in small amounts at low pressures under 100 psi and when the max pressure is reached it shuts off.  As fuel is used and pressure drops the engine restarts to generate more to keep gas ready for use.  It could power anything natural gas powers.  It could be configured to  use fresh water, saltwater, wastewater, Grey water black water or alcohol mix antifreeze liquid.  Most European cities are near water sources so that is not a real fresh drinking water problem.  It can also be configured where allowed to push excess electrical power into electrical grid.
This is an on the fly made Hydrogen powered . . . you feed it water stock . . . even polluted or urine . . . and it makes 99.9 percent pure Hydrogen to feed its engine and pressurize a tank to have Hydrogen available for moderate heating and cooking needs. . You could  drop a hose in a stream, settling pond or body of water, feed it fresh urine, or hook it up a pressurized water source. The exhaust is clean you can even run it indoors - but since it is steam you need to exhaust it like a clothes dryer or as an option we sell a condense to recapture the water from the engine exhaust.
Yes . . . it can be ordered large enough to electrically power and feed gas to a gas clothes dryer, stove or electric or gas refrigerator. You just need to feed it water stock and oil. It can be grid tied to solar and battery systems for supplemental power of to boost charging through a charger inverter. Can be configured to top off batteries of a solar hybrid system in polar region extended darkness days or overcast. 
These are great for back woods off the grid use - and it uses easy to understand current technology most any mechanic can fix with parts available at competitive pricing..  If the Hydrogen generating side breaks down, you can fire it up on Propane, Natural Gas or Gasoline until it is fixed.  We ship it with a spare Hydrogen generator cell stack, you take out, replace with the spare and ship that to us for analysis and repair.and returned to you
The FreeFuelSystem is a Pure Gas Generator system that makes lawful Hydrogen Motor fuel in accord CA CCR 2292.7 with an orderant.  It requires dual alternators (not included) if powering and engine and it is set up for each application specifically.  This item is licensed and not sold so there is a monthly fee and it has a warranty for life as long as the terms are complied with a and the license fees remain paid.  The customer is NOT allowed to design their own application without approval.  There is a stationary version available/  If you have questions or want a specific design then purchase this FIRST => https://bigbay4bestbuys.com/gashole_video and ask your question in the notes section, as in that way we get a full indication of who you are as a real person and the TOS then becomes effective and your specific system can be spec'ed out for you.  See https://bigbay4bestbuys.com/content/terms-service-andor-use
This item makes 99.99 percent PURE Hydrogen and can be configured for fuelling almost any device that currently use Natural Gas, Propane or Gasoline, and can be used to bi-fuel Diesel applications
There are two types of Hydrogen Generators - the PEM design and the Hoffman design.  For more info, see - which Hydrogen Generator is best for the job ??  The PEM design uses a membrane and electronic controller - and the Hoffman design is a mechanically separated gas design.  This is the PEM type design. 
This product is eligible for a lifetime warranty ONLY when purchased as part of a complete freefuelsystem generator and timely fees remain paid.  It requires support sensors and electronics and this is ONLY the PEM stack itself.  With the proper power regulation and sensors you will immediately destroy this item.
PEM Electrolyzer Stacks is an advanced patented product, which is lower voltage and higher efficiency, energy-saving and of environmental protection, producing hydrogen and oxygen through the electrolysis of pure water without adding alkali
The proton exchange membrane (PEM), which only allows water and positive ions to cross between compartments. A PEM electrolyzer utilises a solid polymer electrolyte (SPE) to conduct protons from the anode to the cathode while insulating the electrodes electrically.  Thus the PEM and SPE technology are eh same thing.  The membrane also serves as the electrolyte in the cell, eliminating the need for hazardous liquid electrolytes such as concentrated potassium hydroxide. PEM water electrolysis simply splits pure deionized water (H2O) into its constituent parts, hydrogen (H2) and oxygen (O2), on either side of this membrane. When a DC voltage is applied to the electrolyzer, water fed to the anode, or oxygen electrode, are oxidized to oxygen and protons, while electrons are released. The protons (H+ ions) pass through the PEM to the cathode, or hydrogen electrode, where they meet electrons from the other side of the circuit, and are reduced to hydrogen gas. The two reactions that occur in the cell are as follows:
1. 2H2O -> 4H+ + 4e- +O2
2. 4H+ + 4e- -> 2H2
Thus, the only possible components of the streams are hydrogen, oxygen and water moisture, as shown below.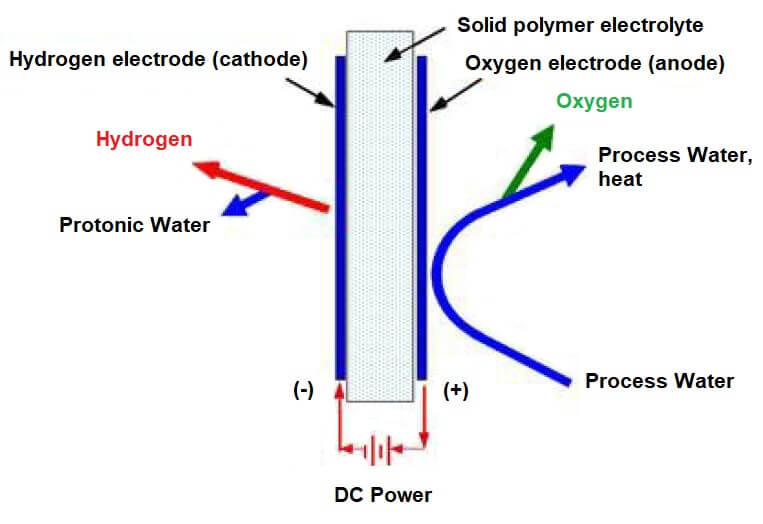 Application:
• Redundant renewable energy transformation and storage
• Lab experiment and teaching
• Laboratory analytic instrument
• Hydrogen healthy care industrial
• Hydrogen beauty industrial
• Fuel for special field
• Hydrogen supply for fuel cell
• Other pure H2 application field
Product Advantages:
• Produce hydrogen by electrolysis pure water without adding alkaline
• No corrosion or pollution
• High hydrogen purity
• Low electrolyzer cell resistance
• No heat and long desiccant replacement cycle
• Lower power consumption and high electrolysis efficiency
Product Dis-advantages:
• Cannot be used in freezing climates or allowed to overheat
• MUST use de-ionized or pure distilled water or the PEM stack will clog with precipitates of the minerals of the hard water. (water de-ionization system and tank not included)
Key Features:
Model
Unit
HPC-PEM-60
HPC-PEM-120
HPC-PEM-180
HPC-PEM-240
HPC-PEM-300
HPC-PEM-500
HPC-PEM-1000
Cells
-
1
2
3
4
1
2
4
Stack Diameter
mm
85
85
85
85
138
138
138
H2 Flow Rate
mL / min
0 - 60
0 - 120
0 - 180
0 - 240
0 - 300
0 - 500
0 - 1000
O2 Flow Rate
mL /min
0 - 30
0 - 60
0 - 90
0 - 120
0 - 150
0 - 250
0 - 500
Voltage
V (DC)
2 (9A)
4 (9A)
6 (9A)
8 (9A)
2 (45A)
4 (36A)
8 (36A)
Membrane Type
-
Nafion PFSA
Titanium sintering carpet
Precious metal electrode
Needs deionized or re-distilled water
Water Resistivity: >1 MΩ*cm
Water Conductivity: <1 us/cm
General lead time of two weeks to be expected.
Includes
Freefuelsystem with controls and 2  gal storage tank which will pressurize to 60 psi  - size approx 18 x 18 x 12 inches.
Appropriate power supply source  or quick connect and can take DC or AC power source - Alternator or Transformer, Water purification with deionization system capable of purifying  fresh non spolied (ammonia spoiled) urine, small 3 or 7 gas marine type tank capable (not included)  to be mobile with 60 psi marine pump when mobile (included) , pressure regulator for system it is hooked up to - i.e. fuel injection or household gas line system depending on your application
OBVIOUSLY THIS PRODUCT CAN BE DANGEROUS IF YOU DO NOT EXERCISE PROPER PRECAUTIONS AND FOLLOW INSTALLATION AND APPLICATION DESIGN PARAMETERS AND INSTRUCTIONS - IT MAKES THE EQUIVALENT OF NATURAL GAS OR PROPANE AND MUST BE TREATED WITH GREATER RESPECT DUE TO THE SPEED OF WHICH A HYDROGEN FLAME SPREADS AND IS INVISIBLE IN ORDINARY DAYLIGHT. 
WHILE THE WEBSTORE WILL ACCEPT A BANKCARD PAYMENT WE RESERVE THE RIGHT, AND USUALLY WILL, REFUND THAT PAYMENT METHOD AS THIS ITEM IS GENERALLY VENDED BY BITCOIN PAYMENT ONLY
If you need info on how to buy with Bitcoin see => https://bigbay4bestbuys.com/bitcoin_climb